"Neel SMARTEC Consulting helps Indian Manufacturing Organizations to automate their New Product Development Process using Cassini PLM"
PLM have emerged as a vital ingredient of business method for the Indian manufacturing market. Indian manufacturing has been progressively taking on PLM to support their initiatives in collaborative product development, validation and also manufacturing planning among others. Most ideal practice to PLM is that it can enhance the product quality, speed up the production process, as well as rise revenues. Progressively much more organization from a range of markets are analyzing the awareness of PLM along with finding new methods to utilize it. PLM has happened crucial as the single source of truth for managing all aspects of the item from initial development right via to product retired life.
To endure interruption in the digital age, Indian manufacturers have to reconsider every element of their company, become a digital enterprise, and also benefit from the latest cutting-edge modern technology drivers throughout each stage of their new product development operation to become versatile. PLM is driving the demand for being competitive in this smart connected world. Challenge of product complexity needs attention among manufactures to deliver a level of variant to the client and lucrative.
Still there may be a question in manufacturing enterprise's mind every work is action perfectly without PDM/PLM system, after that why a company Need for a PLM system
Lack of Control over Product Details
Details in both digital and also paper form
Data is spread out throughout business in collections, data closets, and hard disk
Challenging to recognize if details of the product development are up to date
Heritage database systems do not attach, information is generally re-entered
Incorrectly specified administered business Processes
Modification procedure is manually done
Poorly Specified as well as Administered Processes Tape-recorded processes are inaccurate or overlooked
CassiniPLM aids Indian manufacturing organizations to achieve the below:
Efficiency improvements

Improving growth for new items

Decreased rates

Increase performance

Enhanced high quality of products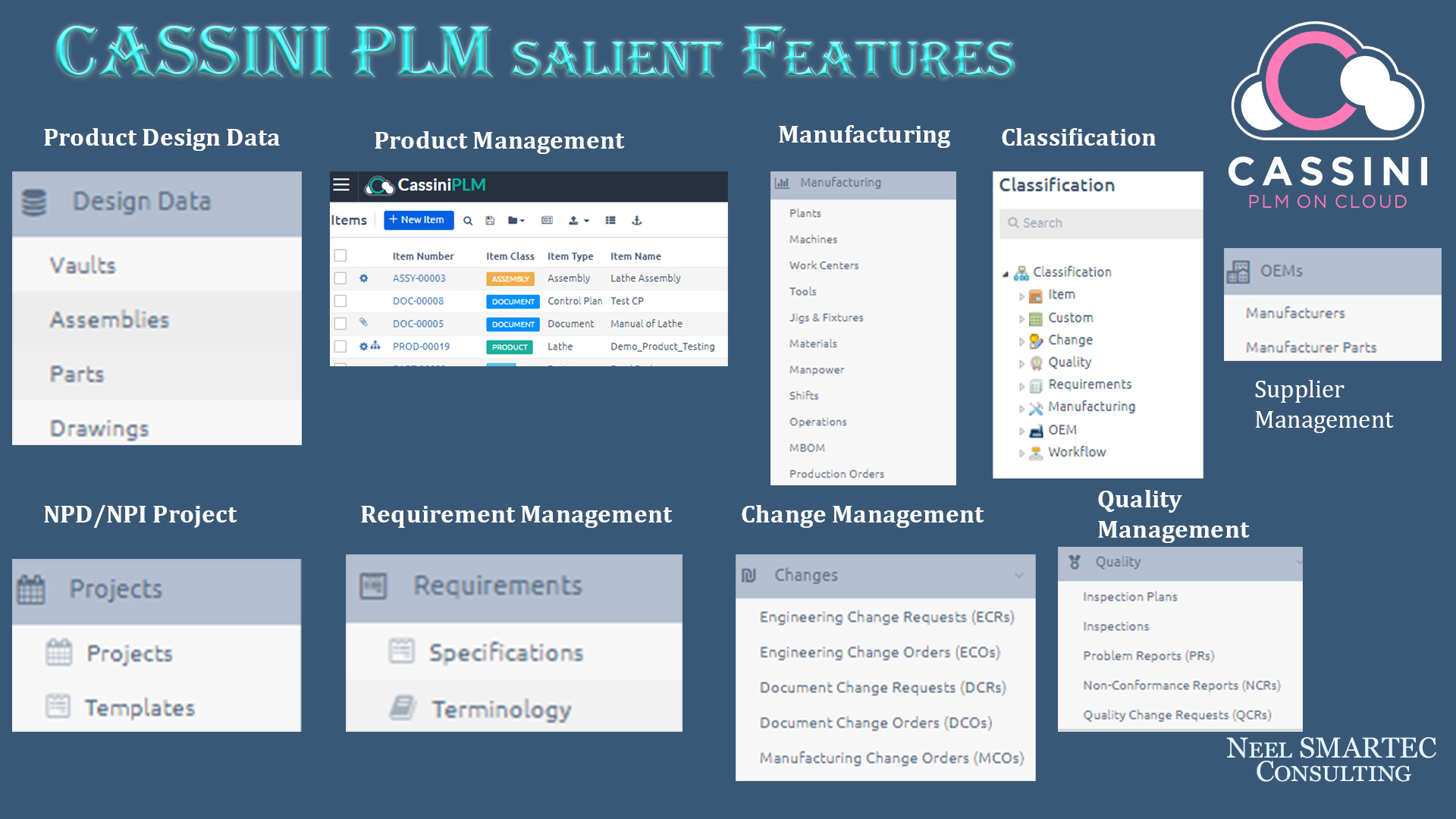 Number of questions in the mind of a business owner of a business regarding the advantages and disadvantages of CassiniPLM. As organizations came to be a lot more international and products a lot more diverse, PLM has emerged as a strategy that had the prospective to drastically transform the way business establish product launch to market. PLM can considerably boost the business's function and additionally result. The option of CassiniPLM offered on the marketplace today is remarkable.
CassiniPLM is a Unified Cloud Platform that simplifies and accelerates your product development cycles and manages your entire product lifecycle from concept to end-of-life by synergizing product data with your processes and providing actionable intelligence to your engineering, manufacturing and quality teams. Are you prepared to automate your business process with CassiniPLM? Please contact us (contact@neelsmartec.com) to reserve a session to discuss just how CassiniPLM can improve your NPD/NPI process